What role did books play in your early life?
I grew up in a middle class family. We didn't have everything we wanted but we always had books. My mother enrolled me in a book-of-the-month club at an early age and the monthly delivery was very much a highlight of my young life. Once I entered school and discovered the wide variety of books available to me through the library my reading expanded. This is part of the reason that today I am an elementary library/media specialist. I enjoy trying to find something for all children to read especially for those who don't think they like books and reading.  To this day I am still an avid reader. If I am not writing, I am reading. My husband has actually asked me if I was really trying to read while brushing my teeth. I was.
Who was the first person to recognize that you had writing talent?

My writing journey officially began about 4 ½ years ago. I had t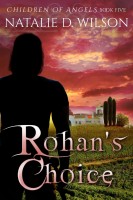 he idea for a fantasy/romance series for many years but had never done anything other than daydream about the concept and a few of the main characters. It was my husband, Will, and a dear friend, Catherine, who encouraged me to sit down and just try to write one chapter.
One chapter turned into three novels within a four-month period and needless to say, I was hooked.  I then gave the stories to a few other dear friends to get their reactions and they also enjoyed the stories and asked for the next one. It was through their reaction and encouragement that I realized that I could do it and that led me to see that I had many stories inside me waiting to be told.
Are you an active participant in the cover design of your books? 
I am very much involved in the design of every book cover. I also write romance novels
under a pen name have found some very talented graphic artists who help take my ideas and vision and turn that into an image that would help catch the readers' eye. One of the most difficult parts of cover design for me is giving over my verbal ideas to the artists and trusting them to develop a graphic representation of that vision. I am allowed to make request changes to modify the cover creation along the way to help bring the final cover image as close as possible to my original idea. I had to learn that it was not always possible to have exactly the model look or pose but that I had in mind but that the feel of the cover is the most important aspect. I feel that it's important to do your homework and seek out an artist who is able to collaborate with you to bring your ideas to life.
You have books published on ebook platforms like Nook. What has your experience been with ebooks?
I am very fortunate that my husband is technically savvy and he was instrumental in helping me to navigate the ebook publishing process. In my experience, ebooks account for the vast majority of my sales. I do offer print books as well because I know that for some the physical book is preferred and I believe that every reader is important and I want to be sure to have the book available in as many formats as possible. I think everyone that writes loves to see their book in print, but I believe that ebooks are a must.
What's the most rewarding thing about being an author?
Hands down, the most rewarding thing to me as an author is to have a reader tell me not only that they love a character or scene, but why they loved it. I often find myself in conversations at book events talking about my characters as though they are family members. When a reader loves my characters as much as I do and enjoys discussing them as if they are real to them, I am absolutely tickled pink.
---
About the Author